ORDER PROCESSING: Please allow one week to process your order.  Expect an email within 3 days to let you know your order is on the way! STORE PICKUP -   South of Hampton  3725 Powers Ferry Road NE Building A Atlanta GA 30342 Orders can be picked up daily, from 10am - 4pm.  An email will be sent when your order is ready for pickup. LOCAL DELIVERY During checkout, enter your address and choose the ship option. Click the "continue to shipping" button. Local delivery is available for addresses within [insert distance] of our shop. If the local delivery option does...
---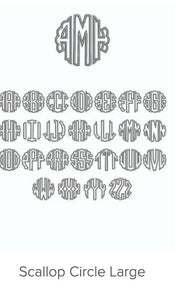 We love embroidering shower curtains, duvet covers, shams and upholstery!! These are some of our favorite large format monogram designs.
---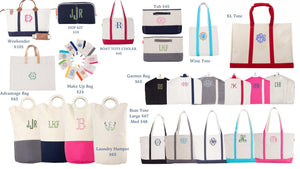 ---
---
      I f you have been following us for a while you know that we LOVE Shuler Studio monogram fonts and so do our customers. I thought it would be fun to tell you more about them. I found this on their website and love it!!   This all started…back in the 1970's when my mother owned her own embroidery business. This was before monograms were seen on bags, shoes, front doors, and cars. Her machine was about the size of a large kitchen island! She perfected beautiful and classic embroidered monograms as I watched her over the...